CARTA E COSTURA F/W 08/09
---
KVARTSVÄGEN
jag är i umeå och steker loss med fartzan, jag blev nervös så kunde inte visa så mycket men..
igår besökte jag umeå open. träffade lite fans och så, det var kul.
jag hatar vakter, jag är den enda som måste visa leg när jag redan fåt ett sånt 18 års armband!!! jag är den enda som har så otur när jag ska låna min kompis kort att jag måste visa leg!!!!! jag är den enda som inte får köpa ett glas vin och två glass vatten till mina vänner!!!!! han la upp ett glas vin och ett vatten, "ursäkta kunde jag få ett glas vatten till?" ba: "nej". man ba: "jaha".
---
509 FLYGPLANSINFARTEN
jag och joar spenderade tid på bromma flygplats idag, nu har jag lock i ögonen. jag är fan sämst på att flyga. haha jag råkade skriva ögonen men jag menade öronen
---
MIKIO SAKABE F/W 08/09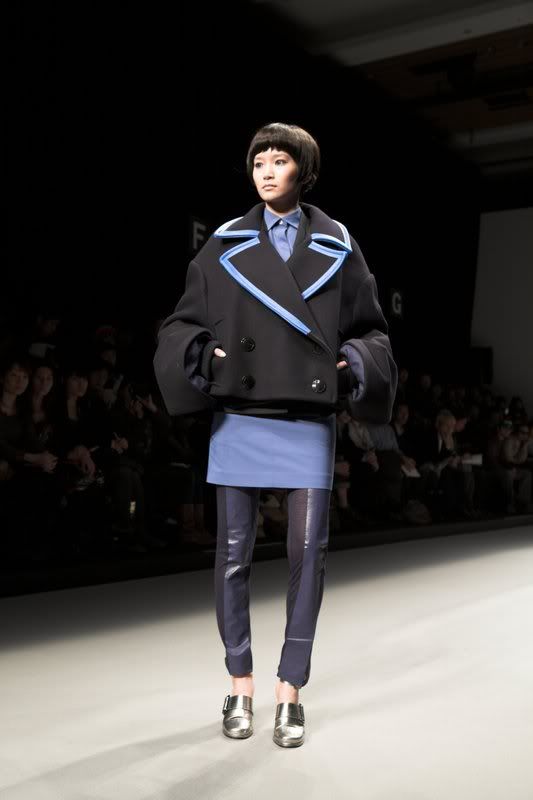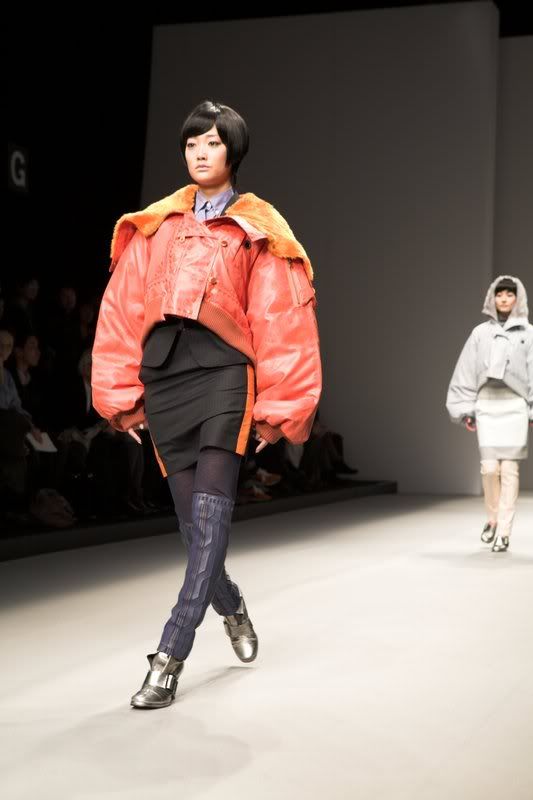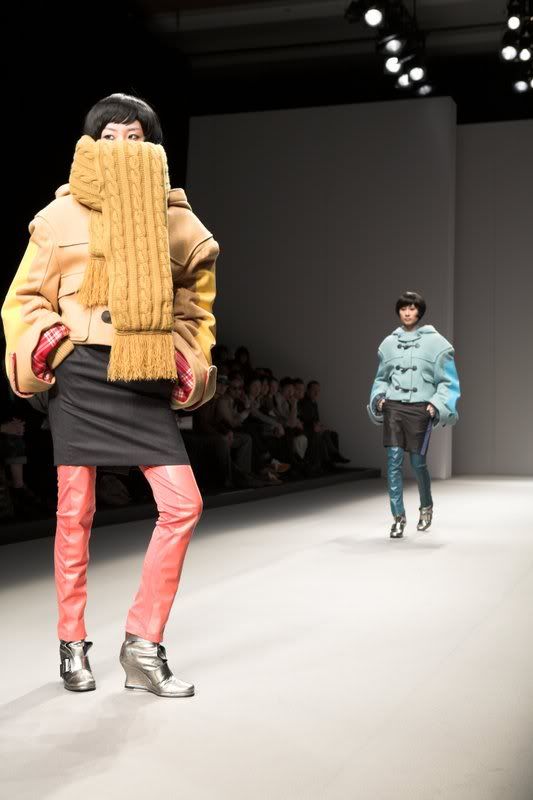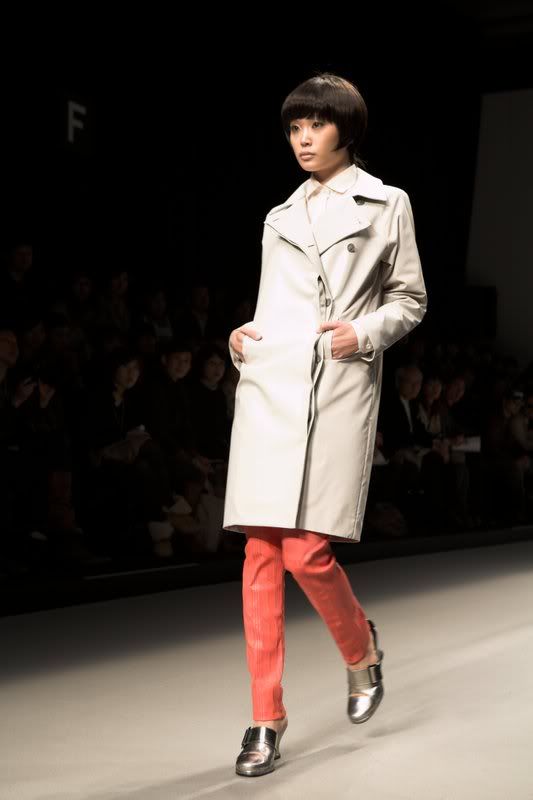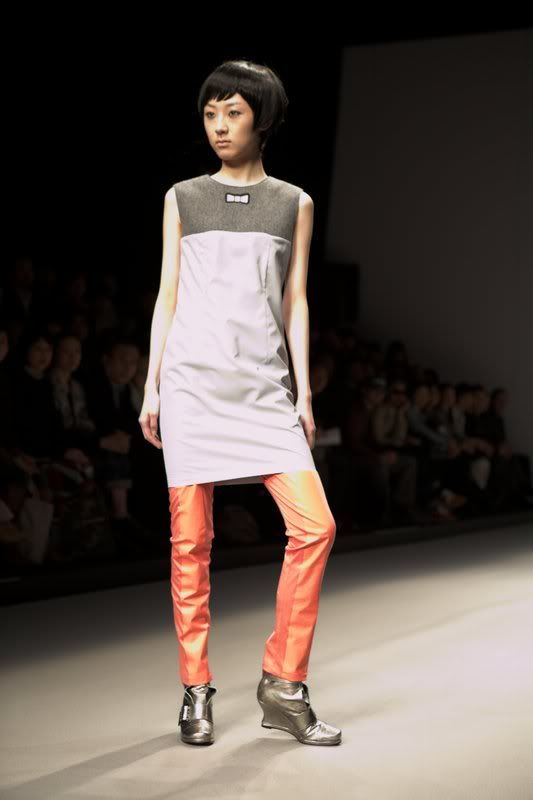 ---
RICKARD LINQVIST A/W 08/09
*såg den här visningen irl* *bilderna är itne så FAIR den var mycket finare på rikt*
---
ARCHITECTURAL CLOTHES S/S 08
---
ALLTSÅ
jag var nyss med om typ det hemskaste jag har varit med om på länge!

jag skulle öppna dörren in till trapphuset men så var mina händer hur kalla som helst så jag kunde bara inte få upp dörren. så skulle jag ringa till han jag bor med så har jag slut på pengar på mobilen förståss!!!!! åååh jag försöker mer och det går bara inte, jag hängde typ på nyckeln med alla händer jag hade! jag gick runt lite å kollade efter någon som skulle kanske kunna öppna dörren med min nyckel men ingen fanns någonstans!! med gråten i halsen försöker jag ännu mer och det går bara inte sen helt plötsligt vips så får jag HALVT UPP DEN! halva dörren är olåst, alltså nyckeln är halvvägs men jag kunde inte dra mer, jag ba NÄ NU JÄVLAR så tog jag hela handflatan å tryckte allt jag kunde så öppnades den!!!!

nu vill jag gråta av lycka istället
---
COOOOOOOOOOL
haha alltså vad gör jag ens
---
YOHJI YAMAMOTO F/W 08/09
---
WILD IS THE WIND
---
DJUR SOM JAG VILL TRÄFFA
A jaglion or jaguon is the offspring between a male jaguar and a female lion (lioness).
 http://upload.wikimedia.org/w...
A jagulep, or jagleop, is the hybrid of a jaguar and a leopardess.
A leopon is the result of breeding a male leopard with a female lion, or lioness.
A leotig is a hybrid of a male leopard and a tigress.
A lepjag, or leguar, is the hybrid of a male leopard and a female jaguar.
A liard or lipard is the proper term for a hybrid of a male lion with a leopardess.
A liger is the offspring between a male lion and a female tiger. (dom största ligrarna har uppskattats väga över 630 kilo)
 http://www.tigers-animal-acto...
It looks like a giant lion with diffused stripes.
A tigard is the hybrid offspring of a male tiger and a leopardess.
A tigon is the hybrid of a male tiger and a female lion.
Due to combining genetics, adult Tigons are smaller than adult lions and tigers. In the late 1800s and early 1900s, tigons were more common than ligers.
A tiguar is a tiger/jaguar hybrid.
Jaguatiger (Jagtiger, Jagger, Jagutiger)
The hypothetical offspring of a jaguar and a tigress.
Liguar
Offspring of a Lion and a Jaguaress.
Dogla
A dogla is a supposedly natural hybrid offspring of a tiger and a leopard or possibly a leopard with aberrant patterns.
---
HI
OKEJ NU FICK JAG OCKSÅ EN GÄST ATT DRA KVITTOT, DEN HÄR GÅNGEN VAR DET
EMMA
SOM FICK DRA KVITTOT OCH DÅ BLEV DET FRÅN NÄR JAG ÅKTE PÅ FIELD TRIP MED BIBI OCH JOHANNA TILL LIDL OCH RUSTA I GUSTAVSBERG, DET BLEV LIDLKVITTOT DÅ ALLTSÅ: PLASTKASSE LIDL OCH BONDKAKOR OCH FARFALLE OCH MORÖTTER OCH RUSSIN OCH RÖD LÖK (5 KR FÖR ETT KILO BARA) OCH KROSSADE TOMATER OCH OSTBÅGAR (SHAME ON ME, DET HÄR VAR UNDER MIN PERIOD DÅ JAG VAR GODISBEROENDE I TYP TVÅ VECKOR) OCH GRAFENWALDER PILSNER OCH TVÅ TILL GRAFENWALDER PILSNER
caps lock är snygg
gay fierce looking straight guy says KiSs On YoU aLL
---
RAJESH PRATEP SINGH F/W 08/09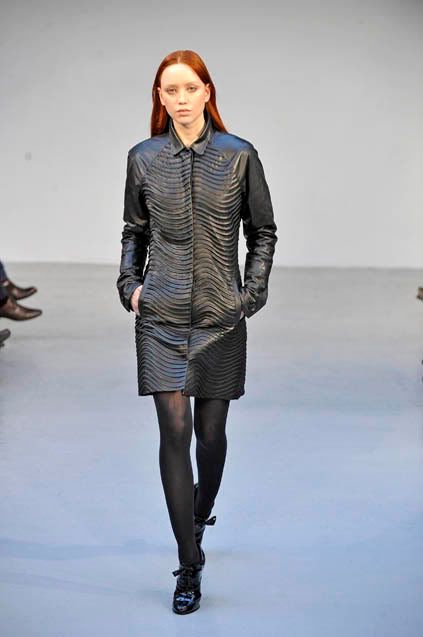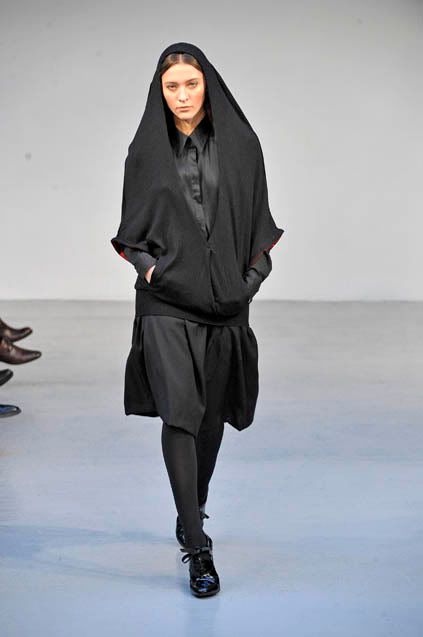 sen är det en massa fula grejer också
---
FILM
om 1 minut är agnes cecilia på tv, inte för att den har något med bloggen att göra förutom att namnet är lite snarlikt och båda är bra tror jag. fast bloggen är bättre.

på tv4, nu har det gått en minut!! nu har den börjat snart
---
SOLVE SUNDSBO
det ska vaa sånna norska eller danska ö:n i rubrike men jaha, hur fan gör man sånna då?
---
MESK
det är med att försöka vara fierce när man har en man mellan benen
haha varför var ingen lika öppen som jag, ms slutty tank top 2008
---
ALEXANDER MCQUEEN F/W 08/09
---
PHILIP GAY
---
MAISON MARTIN MARGIELA F/W 08/09
älskar margiela!!!!!!!
---
UPPSALA
igår valde jag bort the "thats fashion" party på grund av lite olika misärer och åkte med lisa till familjen raudsepp i uppsala för att fira en typisk rysk påskafton, jaanus gjorde omelett till oss och natalja hade bakat fantastisk morotspaj. haha typisk rysk påskafton, ja det var några fjädrar här och där iallafall.

hursomhelst var det fantastiskt att komma till ett riktigt hem och sova i en läcker säng och äta mat i ett riktigt kök och inte behöva ha typ åtta lager strumpor på fötterna så att det inte ska fastna en lifetimesupply av matbitar på fötterna!
---
SOLNA REPRESENT
vi färgade en gammal våffla svart, lisa övade klarinett och jag övade steamy poses!!!!!
ENJOY:
---
AWARENESS & CONSCIOUSNESS S/S 08
---
SANNINGEN
ok dagens kvittolotteri gick åt fanders för jag lät gråsparven dra kvittot! det blev ett kvitto som är från en gång när jag totalt spårade ur på maxi, jag gick lös.

ok:
Chokl digest kaka 15.90
Fusilli 8.90
Glass kross chokl 10.90
Godislandet lv. 16.21
Husman knäckebröd 9.90
Lättfil 8.20
Pizza vegetaria 10.90
Plastkasse 27l 1.50
Potatis fast 8.45
Vetetortillas 8 st 15.90
Vita bönor i tomat 2.90
Zucchini grön 9.09

Total 119.00

jisses.. what iSH APPENING TO ME!!!!!!! + (?)?
---
BIG R
hej allihopa ikväll har jag fått visit av gråsparven igen och vi firade det med lite romantic waffle eating_in_bed!!! det var kul oc jag har sylt på min skjorta som är typ nytvättad!!! och vi har inte ens en egen tvättnyckel för big R har tappat bort den så vi måste låna tvätttider av grannarna om dom har någon över som dom inte ska använda! hoppet!
dagens fjällräven invasion på tunnelbanan var inte att leka med. det var som att jag blev satt på en helt annan planet där jag inte fick vara med bara titta på, jag kände mig så vilsen. samma känsla som när man åkte buss med dagis och blev kvarglmd på bussen (det var en hemsk upplevelse, efter nån halvtimme eller så kom fröken med taxi efter bussen men det kändes som typ åtta halvtimmar).
jag har förresten listat ut hur dom kom på hur picassoryggen skulle technodrom, jag vet inte, jag hittar inte på ordet just nu men technodrom kommer upp i huvudet. NEJ. notre dame! ringaren i notre dame: ja iallafall: jag kom på hur dom gjorde när dom skulle hitta på hur han skulle se ut: såhär:
---
SHORTY
jag saknar biskopsgården
---
MARC LE BIHAN S/S 08
---
ROBERT JASO
---
SEXTON KRONOR OCH TRE ÖRE
jag råkade nämna för ett mycket god man att jag inte hade så mycket pengar, det första han sa var hit med ditt konto och vips så var jag 16,03 kr rikare! tack så mycket, jag ska köpa nåt asnice.

på tal om det, fan vad jag inte var high end på centralen när jag gick runt med en påse från lidl i ena handen och en från rusta i den andra. haha lowlife, jag fick mördarblickar av alla stekerz ba laserögonen åkte på direkt typ

hahah fan vad kul det var är jag var fotbollsskoleledare för några år sedan (jag är itne superhjälpte på fotboll precis, spelade typ i mellanstadiet men jag fick vara det ändå). det var jag och två till ledare som hade nån sorts övning, eller vi spelade match och så för en gångs skull skulle vi också vara med och då kommer chefen förbi, typ 50 årig fotbollsgubbe. så börjar han heja på alla ba ja jättebra, eller han hade en tendens av att bara ropa suveränt eller strålande, och helt plötslit börjar han berömma mig och dom andra tränarna under matchen, ba STRÅÅLANDE VIKTOR, jag ba eh jag spelar med åttaåringar. ba snygg passning lille pontus 8 år var helt borta!!! SUVERÄÄÄNT ERIC!!
---
GIVENCHY F/W 08/09
---
TUNE OF THE DAY
the last shadow puppets - age of the understatement.
är det något som ni kanske sett mig ha elle vad som helst som ni vill köpa så säg till för jag har kris. tack.
PuSS AlLa ~~*?,,<-ÄLsKLinfaR-',*~~
---
JEAN-CHARLES DE CASTELBAJAC F/W 08/09
---
DRKSHDW F/W 08/09
---
J.W. ANDERSON F/W 08/09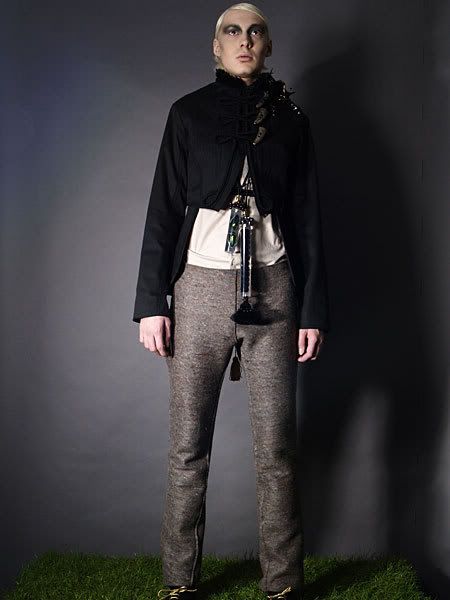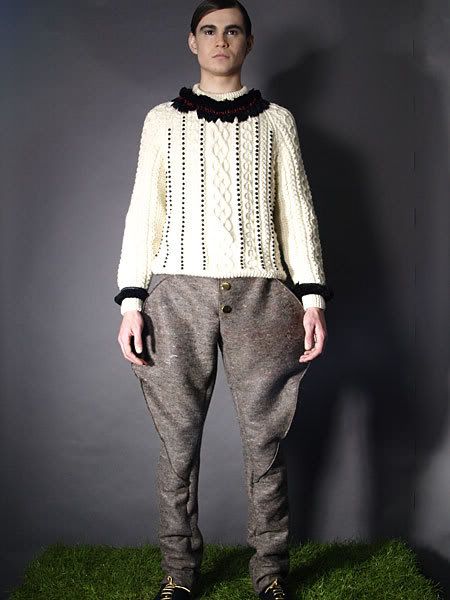 ---
JULIA HEDERUS A/W 07/08
---
FERGALICIOUS
hahaha älskar att fergie ferg ska namedroppa blingfazhion i my humps och helt plötsligt ba seven jeans, true religion!!!!!! så roligt
gårdagens låt blev firefox ak FEATURING tiger lou - winter rose
förresten "rip"
silly crimez!!
!! du förblir min bakgrundsbild i en liten framtid, man blir ju så glad av den här bilden, jag vill också liksom
---
ANGER MANAGEMENT
idag blev jag så jävla sur så jag gick och köpte mig ost, mjukt bröd och ost. jag är så jävla less på att leva på typ 1 kg lök för 5 kr och lite krossade tomate till det voila deilicious meal á la thug life!!! jag kunde inte take it nå mer så jag gjorde revolt och köpte lyxprodukter. köpte en bakad limpa med några frön i och nån ost, den billigaste iofs.

det här kommer jag få lida för. jag ångrar mig, jag ska aldrig mer bli arg. det här har ju typ kostat mig mer än mycket
---
DIOR HAUTE COUTURE MAKE UP S/S 08
---
*SUR*
hoppas att rodeo får mycket betalt av hm för den där jävla reklamen, fan vad störande den är. det går ju inte att få tyst på den heller, trcker man på stopp så fortsätter den ju att jävlas!
---
IZIMA KAORU
---
TOM MUNRO
---
KATE MOSS AT HEDI'S DIARY
---
LIMI FEU F/W 08/09
---
GARETH PUGH F/W 08/09
asså vilket geni, han måste vara molnet med typ ALLA snilleblixtar!!
---
GOTT MED MAT
idag fick jag Death to Los Campesinos! med Los Campesinos! mixed feelings om pojksångarens röst. jag var skitnära på att skriva röster när jag pratade om bara en röst haha. men dom svänger rätt så bra ändå. kanske lite väl simpelt
tack så mycket för emporio armani kalsongerna med guldtext pappa!! dom är så roliga, det har gått och blivit mina favoritkalsonger. bästa julklappen i år tror jag nästan.
här får ni en bild på mig när jag äter mat, det är min favoritbild på mig, snacka om att de gick vilt till när inte ens ögonen hängde med!!!!!!!!!!:
---
BALENCIAGA
F/W 08/09
S/S 08
F/W 07/08
S/S 07
---
FÖRLÅT
haha kolla jag har blivit en sellout, satte dit en LÄCKER smslån reklam.
tryck på den om ni vill stödja mig så har jag kanske råd att köpa två eller tillochmed tre burkar vita bönor i månaden!!!
---
DJ GARY
bjöd på håkan hellströms för en lång lång tid idag.
haha jag vaknade 8 imorse och kunde inte somna, då slog jag på philip glass - solo piano och helt plötsligt vaknar jag upp och klockan är typ 14.30. värsta!!!
---
COMME DES GARCONS AW9596
---
THE JAPANESE REVOLUTION IN PARIS FASHION
The Japanese Revolution in Paris Fashion*
Yuniwa Kawamura       
    *This excerpt from "The Japanese Revolution in Paris Fashion" (Berg 2004) was presented at the international symposium "Cultural Difference and the Creative Processes" held at the Surrey Institute of Art and Design University College in U.K. on February 6, 2004.
I would like to introduce five Japanese designers who are most famous in the West, especially in France. I will trace their background, characteristics of their designs and fabric and the philosophy behind their designs. First, I will talk about Kenzo, then the three avant-garde designers, namely Issey Miyake, Yohji Yamamoto and Rei Kawakubo of Commes des Garçons, and lastly, I will discuss Hanae Mori, the only Japanese couturière.
KENZO:
Kenzo Takada, known simply as Kenzo, is the first Japanese designer to be recognized by French fashion professionals and is considered to be one of the most influential ready-to-wear designers. He was born in 1939 in Himeji, the southern part of the main island of Japan. By the time he was fifteen, he knew he wanted to make clothes. In 1961, after graduating from Bunka School of Fashion in Tokyo as one of the first male students, he worked as a company designer in Tokyo.
He recalls (Morris 1972: 23): "When I worked in Japan, it was no good for a designer. You had to follow European fashions." In 1964 he took off to Paris by boat initially intending to stay for six months. He arrived in Marseille on January 1, 1965. He remembers (Altman 1986: 12): "it was a life-changing experience. I knew right away I wanted to stay. And so I did. But not without worrying about money. My mother sent me money twice, and the third time I asked, she said no. That forced me to work." So he started to go around fashion houses and ready-to-wear companies selling his sketches, and one of the companies offered him a position. He worked as a company designer in Paris for four years and then decides to set up his own his own store.
Kenzo is famous for his combinations of plaids, flowers, checks and stripes. He combined scraps of fabrics he found at the flea market in Paris and scraps of Japanese fabrics. This was only because he could not afford to buy fabrics in yards or bolts. Kenzo made a stylistic contribution to the West as there was something Japanese in the way he reconstructed Western clothing. His designs have changed over the years, but many of his distinctive characteristics were never lost. The mixing of colors and fabrics and the quilting technique he used were all rooted in Japanese traditions. He realized that the "exotic" elements were attractive to the French public, so he began to look elsewhere for other ethnic cultures. He also used straight lines without any darts and square shapes all which were derived from kimono that does not have any curves. Although he kept the Western conventions of the clothing system which would later be shattered by avant-garde Japanese designers, it was Kenzo who paved the way for other Japanese designers to come to Paris.
Many fashion authorities credit Kenzo with starting such trends as kimono sleeves, the layered look, folklore fashion, winter cotton, the explosion of bright colors, baggy pants and workers' clothes (Dorsey 1976). As Kenzo's biographer writes (Sainderichinn 1998: 17): "Kenzo is a magician of colour. Since the mid 1960s, when he moved from his native Japan to the city of Paris, he has devoted himself to the creation of wearable, vivacious clothing: a fashion without hierarchies." Kenzo, although not single-handedly, democratized fashion. The 1970s was the decade when fashion became more and more accessible, and many new ready-made designers, such as Sonia Rykiel, made a major contribution to this new movement.
ISSEY MIYAKE, YOHJI YAMAMOTO AND REI KAWAKUBO
It was in the beginning of the 1980s that a new generation of Japanese designers became key players in the international fashion arena. Rei Kawakubo, working under the label Comme des Garçons, and Yohji Yamamoto began to present their collections in Paris along with the already-established Issey Miyake, who can be considered as the founding father of the avant-garde fashion. Those three together formed and started a new school called the "Japanese Avant-Garde Fashion" although it was never their intention to classify themselves as such. Kawakubo (Séguret, 1988: 140) says: "We certainly have no desire to create a fashion threesome, but each of us has a strong urge to design new, individual clothes which are recognizably ours. The common effect of this group of individuals, lumped under the label 'Japan', did the rest." Miyake (Séguret 1988: 141) also explains the phenomenon: "In the Eighties, Japanese fashion designers brought a new type of creativity; they brought something Europe didn't have. There was a bit of a shock effect, but it probably helped the Europeans wake up to a new value."
While Kenzo is considered a pioneer among all Japanese designers, Kawakubo, Miyake and Yamamoto are the ones who created a new style characterized by monochromatic, asymmetrical and baggy looks. Their designs were unconventional, to say the least. Some critics called them "The Day After" and "Post Hiroshima". Some called it "a sartorial revolution in Paris". They broke the boundary between the West and the East, fashion and anti-fashion, and modern and anti-modern. Like Kenzo, these designers placed a great significance on clothing inherited from the past, including Japanese farmers' clothes designed through necessity and adapted dyed textile and quilting from Ancient Japan, which Japanese would never consider fashionable. These designers presented them to the fashion world, gave the opportunity for "the neglected" to make their existence known, and transformed them into "fashion". Their method constitutes a system designed to overthrow the existing regulations and norms of clothing and fashion.
The term "avant-garde" implies a cohesive group of artists who have a strong commitment to iconoclastic aesthetic values and who reject both popular culture and middle-class life-style (Crane 1987: 1). They are generally in opposition to dominant social values or established artistic conventions. These three designers rebelled against everything that exists in society. They found it important not to be confined by tradition, custom or geography and to be free of any influences in expressing shapes, colors and textures. They challenged not only the conformity of the Japanese society but also the norms in the Western society. Kawakubo says explicitly in her rare in-depth interview with a Japanese fashion critic, Takeji Hirakawa (1990: 21):
When I was young, it was unusual for a female university graduate to do the same job as a man. And of course women didn't earn the same. I rebelled against that. And when my fashion business started running well, I was thought of as unprofessional because I was not a fashion school graduate' I never lose my ability to rebel, I get angry and that anger becomes my energy for certain. I wouldn't be able to create anything if I stop rebelling.
In her analysis of a new art movement, such as avant-garde, Diana Crane, an American sociologist (1987: 14) states that an art movement may be considered avant-garde in its approach to the aesthetic content of its artworks if it does any of the following: (1) If it redefines artistic conventions; (2) If it utilizes new artistic tools and techniques; (3) If it redefines the nature of the art object, including the range of objects that can be considered as artworks. Styles that Miyake, Yamamoto and Kawakubo created collectively apply to all of the above. They abandoned the conventions of clothes-making altogether, invented different and original materials as clothing fabrics and by doing so, introduced and redefined the meaning and nature of both clothes and fashion.
(1) Redefining Sartorial Conventions
These designers reinterpreted Western sartorial conventions, which I call a clothing system, by suggesting different ways of wearing a garment. For example, there can be two neck holes instead of one or three sleeves instead of two, and leave it up to a wearer to decide which hole or sleeve one wants to wear. They also redefined what clothes look like or can look like. A salesperson in my study who worked as a dresser at the back stage of Miyake's show in the late 1980s recalls the intricate construction of his garment:
There was a garment that was totally out of shape and had four holes. You could hardly tell which holes are supposed to be for the arms to go in or the neck to go in. During the rehearsal, Issey's patternmakers would be going around the dressers making sure we knew which hole was for which part of the body. Models usually come running back from the stage to get changed to the next outfit, and it is our job to help them get dressed as quickly as possible with the right shoes, the right accessories and so on. It's a mad house at the back during the show. At that point, you have no time to think which hole goes where! Some dressers couldn't match the neck to the right hole. It was totally wrong. But who can tell? I'm sure even Issey couldn't tell.
It is up to the wearer to decide how to wear it according to one's "creativity". The designer claims that simplicity is often the key to wearing his clothes which are versatile.
Furthermore, they redefined the nature of Western clothing itself. Western female clothes have historically been fitted to expose the contours of the body, but these Japanese designers introduced large, loose-fitting garments, such as jackets with no traditional construction and a minimum detail; their dresses often have a straight, simple shape, and their large coats with sweepingly oversized proportions can be worn by both men and women alike. The conventions of not only the garment construction but also the normative concept of fashion were challenged. All of this came at a time when women's clothes by most traditional Western designers were moving in the opposite direction, toward a snugger fit and formality. Their view of fashion was diametrically opposed to the conventional Western fashion, and it was not their intention to reproduce Western fashion as Miyake said in his speech in 1984:
Away from the home country, living and working in Paris, I looked at myself very hard and asked "what could I do as a Japanese fashion designer?" Then I realized that my very disadvantage, lack of western heritage, would also be my advantage. I was free of Western tradition or convention. I thought, "I can try anything new. I cannot go back to the past because there is no past in me as far as western clothing is concerned. There was no other way for me but to go forward." The lack of western tradition was the very reason I needed to create contemporary and universal fashion.
While the integration of some kimono elements into their designs is clearly evident, especially in their earlier works, these designers have also broken a rigid system of kimono with tight rules (Dalby 1993). It was the combination of the Japanese and the Western elements while destroying them both to reconstruct something completely new.
Kimono refers to full-length Japanese clothing that is with rectangular pattern pieces assembled. There is little difference between men's and women's kimonos, and in terms of shape and design, they are almost gender neutral. Women's kimono are designed to be folded at the waist under a wide sash called Obi, so that the garment drags on the floor if left open. On the other hand, men's kimono hangs so that the hem just touches the floor when the garment is worn unbelted. The most apparent gender-specific characteristics found in kimono are not the silhouette nor the shape but the colors, fabrics and prints.
Like the shape of the kimono, the designs by Kawakubo, Miyake and Yamamoto were known for being gender neutral or unisex. Gender roles are determined only by social rules and regulations formed by society. Clothing constructs and deconstructs gender and gender differences. Clothing is a major symbol of gender that allows other people to immediately discover the individual's biological sex. These three Japanese designers challenged the normative gender-specificity in clothes which was the characteristics of Western clothes. Yamamoto explained his philosophy in this way (Duka 1983: 63):
Men's clothing is more pure in design. It's more simple and has no decoration. Women want that. When I started designing, I wanted to make men's clothes for women. But there were no buyers for it. Now there are. I always wonder who decided that there should be a difference in the clothes of men and women. Perhaps men decided this.
(2) Using New Tools and Techniques
Since their garment constructions were not conventional, they had to teach factory seamstresses their way of sewing the pieces together, which conflicted with craft standards. In order to come up with unconventional designs, there needs to be people who cooperate in creating such products.
For instance, Kawakubo's clothes were deliberately designed to look unfinished and worn, defying common sense and challenging notions of perfection. At first she was regarded with revulsion, but this eventually gave way to amazement and admiration (Baudot 1999). Kawakubo (in Ayre 1989: 11) says that "Perfect symmetry is ugly, I always want to destroy symmetry", and it is a perfect summing-up of post-modernism applied to fashion. She wants to question the notion of perfection as something positive and beautiful (Sudjic 1990: 80):
machines that make fabric are more and more able to produce uniform, flawless textures. I like it when something is not perfect. Hand-weaving is the best way to achieve this, but since this isn't always possible, we loosen a screw on the machines here and there so they can't do exactly as they are supposed to.
However, some designers find this unacceptable. An assistant designer in my study who works for a Japanese designer in Paris explains why:
From a design and technical perspective, Kawakubo's works are beyond our comprehension and also unbelievable for those of us who were professionally trained in fashion schools. Students are taught always to fold a hem about one inch in case of a straight or semi-straight skirt, and about half an inch or even less for a flared skirt. Kawakubo would let the edge of the skirt unravel without a hem and utilize it as part of her style.
It becomes difficult for those who are trained to break that mold of conventions which define the fine quality of a garment. It is probably not a coincidence that Kawakubo was never trained as a fashion designer. The production and technical process of a garment is more or less standardized, but there are no laws to regulate the production process of clothes. We do not live in an era where the production process of clothes is implemented by the guild system. Kawakubo is indeed organizationally innovative.
Fabrics have become a crucial element in the Japanese designs, and the Japanese avant-garde designers experiment with materials, for instance, by bonding rubber to fabric or mixing natural and artificial fibers. The work is ensured strict confidentiality about the weaving of the fabric and the way it is treated afterwards. There are no rules for what can be or should be used as fabric. Anything can be clothing fabrics as long as they are harmless. For Kawakubo, textile manufacturers play a significant role in the making of a collection because the distinctive character of her clothes can be traced back to the selection of the thread used to weave the fabric from which the collection will be made. The method of communication for Kawakubo is always ambiguous and abstract. Her textile manufacturer (Sudjic 1990: 28-9) who has been working with her for some time explains: "Between four and six months before a collection, she will call me to talk about what she has in mind...Usually it's a pretty sketchy conversation; sometimes it's just a single word. It's a particular mood that she is after, and that can come from anywhere." He relies on his intuition to understand Kawakubo's abstract theme and comes up with sample swatches. Their conversations go back and forth until they reach the exact fabric that Kawakubo has in mind.
Similar to Kawakubo, Miyake places his attention to the fabric. In 1993, he introduced his most commercially profitable collection "Pleats Please". Traditionally, pleats are permanently pressed before a garment is cut, but he did it the other way round. He cut and assembled a garment two-and-a-half to three times its proper size, and then material is folded, ironed and oversewn so that the straight lines remained in place. Then the garment is placed in a press between two sheets of paper from where it emerged with permanent pleats (Sato 1998: 23).
As early as 1976, Miyake began his concept of A Piece of Cloth, that is clothes made out of a single piece of cloth which would entirely cover the body. His most recent project on A-POC evolved from his earlier concept. The A-POC clothes consist of a long tube of jersey from which one could cut without wasting any material, a large variety of different clothes; made with an old knitting machine controlled by a computer, the clothes can be made in large quantities (Sato 1998: 60). His objective was to minimize waste and use all leftover material. These garments allow the buyer to size and cut out a small hat, gloves, socks, a skirt or a dress. Depending on the way the dress is cut, it may appear in two or three pieces. Miyake also worked on new techniques of sewing garments, such as heat taping and cutting by ultrasound, all of which were featured in his "Making Things" exhibition in 1999 in Paris. Miyake collaborates with his textile director, Makiko Minagawa, who interprets his abstract ideas. It is she who gives life to his idea. She then works with textile mills.
Yamamoto is not an exception. He also spends much of his time traveling in Japan looking for fabric and old costumes. Yamamoto says (in Gottfiried 1982: 5): "Actually, I'm interested in keeping the shapes simple, and for me eighty percent of the collection is making new fabrics." He is proud of his black and white wool jacquards and a washed wool in his collection because "it's softer and looks second hand." 
(3) Redefining the Nature of Fashion and the Concept of Beauty
Every convention carries with it an aesthetic, according to which what is conventional becomes the standard by which artistic beauty and effectiveness is judged. The conception of fashion is synonymous with the conception of beauty. Therefore, an attack on a convention of fashion becomes an attack on the aesthetic related to it. By breaking the Western convention of fashion, they suggested the new style and new definition of aesthetics. Some French took it as an offense not only against their aesthetic but also against their existing arrangement of ranked statuses, a stratification system in fashion or the hegemony of the French system.
Their cutting edge concept that there is beauty in the unfinished has had a major influence on today's fashion. Miyake says (in Mendes and de la Haye 1999: 233): "I do not create a fashionable aesthetic, I create a style based on life." He is opposed to the words "haute couture", "mode" and "fashion", which imply the quest for novelty (Chandès 1998: 107). Kawakubo also remarks: "I oppose trends so I want trends to exist" (in Hirakawa 1990: 44). Fashionable clothes are often synonymous with the definition of beauty and aesthetics. Although Kawakubo says "I don't have a definition of beauty. I don't have an establishment view of what beauty is, as my idea of beauty keeps changing" (in Hirakawa 1990: 73), one can find a common and consistent principle in her designs. For instance, she says "I find beauty in the unfinished and the random, I want to see things differently to search for beauty. I want to find something nobody has ever found, It is meaningless to create something predictable" (in Hirakawa 1990: 24).
As noted earlier, Western clothing tends to be fitted to accentuate the contours of the body, and this is something these Japanese reject. Kawakubo (Jones 1992: 72) further explains that "fashion design is not about revealing or accentuating the shape of a woman's body, its purpose is to allow a person to be what they are". She (in Kondo 1992: 124) comments on the Western obsession with fitted clothing:
I don't understand the term "body-conscious" very well, I enter the process from interest in the shape of the clothing and from the feeling of volume you get from the clothing, which is probably a little different from the pleasure Western women take in showing the shapes of their bodies. It bothers Japanese women'to reveal their bodies. I myself understand that feeling very well, so I take that into account, adding more material, or whatever. It feels like one would get bored with "body-conscious" clothing.
Similarly, Yamamoto (Gottfried 1982: 5) says: "I like large clothes, the look of a woman in a big man's shirt. I find that very attractive." 
Traditionally in Japanese society, sexuality is never revealed overtly, and this ideology is reflected in the style of kimono, especially for women. These avant-garde designers reconstructed the whole notion of women's clothing style; thus they do not reveal sexuality, but rather conceal it just like the kimono.
Yamamoto (Duka 1983: 63) says: "I think to fit clothes tight on a woman's body is for the amusement of man. It doesn't look noble. Also it is not polite to other people to show off too much." To be fashionable meant to dress up, but Yamamoto wanted to suggest otherwise (Menkes 1989: 10):
when I first came to Paris to do a show, everyone was saying, "Dress up, dress up, dress up." So I hated it. So let's dress down, let's break. Why do you have to follow this special elegance? There are other kinds of elegance. We have to be free in front of many kinds of beauty.....and when you remember the time of art nouveaux, La Belle Epoque, you can find so many kinds of useless beauty, nonsense beauty. But sometimes in your life, you have to understand that kind of beauty, because if you follow just simple convenience to live, you lose something. So I wanted to say, "Let's have some nonsense, useless spirit on the clothes. Let's play." 
HANAE MORI
Hanae Mori is one of ten couturiers acknowledged by the Parisian Couture organization and is still the first and the only Asian couturière in the history of French Haute Couture. She remains exclusive among all Japanese designers in France and in Japan. Unlike the other Japanese designers in Paris, Mori, born in 1926, is from the older generation and was already known throughout Japan when she moved to Paris. She had sufficient economic and social capital to start as a couturière, the ultimate title a designer can attain in, Paris. Kenzo and the avant-garde designers have all started as the Prêt-à-Porter designers.
Her styles, methods of dressmaking and clients that she caters to in and outside Japan, distance her from any other Japanese designers. When Kenzo was asked if he ever wanted to do haute couture (Vidal and Rioufol 1996: 60), he answered: "Yes, of course, I always dreamt about it, but it's a totally different occupation that I don't know enough about." While the avant-garde designers are said to have smashed the image of Haute Couture as the standard bearer of fashion, Mori's styles are far from avant-garde. She has never made the kind of impact upon the world of fashion that the avant-garde designers have given because she conforms to the existing clothing system and provides impeccable dress-making and tailoring techniques that only the best seamstresses can produce.
She utilizes the privilege of a couturière and hires the best seamstresses in Paris to produce Haute Couture. Mori (Mori Hanae To Haute Couture Exhibition Catalogue 1992: 25) explains her relationship with her French seamstresses:
It took about a year to create the bond with the seamstresses in my atelier. They are very proud people, and there is a language problem between them and myself. It seemed to me that they were skeptical how much or what kind of work I can produce as a Japanese designer although Japan as a market is lucrative. Now they are all in my hand...A couturier is like an orchestra conductor, so it's up to a couturier, like a conductor, to produce music by conducting skilled experts.
Kei Mori also writes in his biography (1998: 232) how his mother interacts with her seamstresses in her atelier in Paris:
It is interesting to see how my mother who is not very good at French communicates. She gives instructions to her seamstresses both in Japanese and English. "Add more tulles. We need more volume," "Make an artificial flower in pale pink with gradation", "Feathers need to be colored in gradation, too, and place it on the side of the dress" and so on. These seamstresses speak only French, and they respond to her in French. Then my mother would nod with a smile as if she understood. It worried me in the beginning, and I was wondering if they were really communicating, apparently they do. Everything she wanted turned out to be exactly how she expected them to. It's quite amazing.
Mori's intention was not a challenge but a request for the legitimation by the establishment. Unlike Kenzo, or the avant-garde designers, Mori did not break the system of Western clothing or the concept of aesthetics. She did not use fabrics initially worn by Japanese fishermen and farmers. She obediently stayed within the realm of Japanese culture, Japanese high culture that is. She brought the ultimate luxury and beauty of Japan to the West using Japanese cultural products and applied them to the Western aesthetics. What she wanted to challenge was the image against the Orient or Japanese women. Mori raised Japanese fashion one step higher than Kenzo and other Japanese designers.
Unlike the avant-garde Japanese designers, Mori does not hesitate to accept her cultural heritage and the role she must play as a Japanese couturière. She is expected to be Japanese and that must be reflected on her designs. If not, that deceives a fashion writer's expectations (in Kondo 1992: 69):
Hanae Mori happily returned to her roots with fabulously painted on silk crepe, their motif lifted from ancient Japanese art screens. The fabric, uncut, formed flowing kimono evening dresses. What a lovely surprise to see Madame Mori return to her original source of inspiration after years of misguided attempts to imitate European style.
Therefore, her mission comes from the desire to express Japan's highest aesthetic standard, and in order to do that, she borrowed the French system to introduce and diffuse them into the Western clothing system and the fashion system. She needed to have a new kind of high fashion approved by them to make it a legitimate taste.
CONCLUSION: MARGINALITY AS AN ASSET
What made these Japanese designers unique was not merely the clothes they designed but their position and status as non-Western fashion outsiders. The marginality of these Japanese has become an asset. Until Kenzo, there were no Asian designers in Paris. He was followed by Miyake in 1973, Mori in 1977, and Yamamoto and Kawakubo in 1981. The Japanese designers in a field that is predominantly Western, began to use their cultural heritage to be acknowledged by the French, and they discovered that there are considerable financial benefits that they can bring back to their own country and also to other parts of the world. With the Federation's approval, they become insiders.
These Japanese have acquired means to enter the French system and at the same time used their ethnic affinity as a strategy. They must acquire access to insider status in the realms where artistic power is concentrated and where fashion gatekeepers participate. The line between inside and outside the system is an issue about status and legitimation, and the inside boundaries provide privilege and status whose boundaries in the world of fashion can be expanded and manipulated through style experiments and innovation. Fashion professionals accept and welcome designers who push and test the boundaries because these are signs of "creativity". Once the designers are acknowledged as insiders, although recognition is never permanent, they slowly gain worldwide attention. Fashion design is an occupation where prestige necessarily antedates financial success. Prestige, image and name bring financial resources. Until designers reach that stage, they struggle to achieve it, or once it is achieved, they struggle to maintain it.
The French system opened its doors to the Japanese designers and subsequently, to many foreign designers. It is through Paris that charismatic designers are created, and the fashion institutions in France help manufacture one's charisma. Kenzo set the precedent for other Japanese designers. To affirm their uniqueness and the distinct qualities of their clothes, they took full advantage of their Japanese upbringing. The public is reminded of their racial and ethnic heritage every fashion season with the references to Japanese cultural artifacts using every Japanese vocabulary familiar to Westerners, such as geisha, Mount Fuji and kabuki.
Yuniya Kawamura, Ph.D. 
Assistant Professor of Sociology 
Fashion Institute of Technology 
State University of New York
Yuniya_Kawamura@fitnyc.edu
http://www.throughthesurface.com/symposium/kawamura.html
---
COMME DES GARCONS SS97
---
HAPPY NATION
jag typ slajdade ner längs de tusentals långa rulltrapporna och trapporna ner till blåa linjen, typ bröt nackar och vrickade fötter hit och dit, jag har aldrig färdats så fort, tror jag flög ner för vissa trappor för jag kudne inte stanna. men jag hann med sista tunnelbanan!!! i sista sekunden!!! 
kul att min klocka stannade på 22:47 igår och där stannade den till typ 3-4, kul att jag typ varför ska ni gå så tidigt????+++ vi har ju bara varit här en timme, efter typ tre timmar. haha dumskallevicke
gårdagens gary blev you spin me right round med dead or alive, den är jättebra!!!!
---
FIN
idag blev det kvittodragning ur pepparkakshuslådan igen!!!!!
och det blev ett fint minne:
baddhanduk 145 kr
den köpte jag på åhlens, den är gul med pippi långstrump på
---
MUY BIEN
det här är en riktigt vacker tjej
---
UNDERCOVER FW0809
---
JEREMY SCOTT FW0809
---
ALEXANDER MCQUEEN FW0809
---
GIULIANO FUJIWARA SS08
---
GODIN
idag var lisagråsparv i byn och det slogs till på stort till lunch och vi vandrade typ vilse i både solna och bromma på väg till flygplatsen idag sen åkte jag till t-centralen och fick två kramar av maris mamma, det är äkta kärlek.
lidlpasta, spenat, passerade tomater, gul lök och ett glas rött vin blev det till lunch!
tokig bild, jag tycker att vi båda ser ut som dinosaurierna på mina bwskor
dagens låt blev reckoner av radiohead, jag vet inte, radiohead är jag inte a big fan of
---
ROBERT CRAIG
---
OBSCUR AW08
---
70%
idag fick jag animal collective - grass av andreas. kul. bra.
blev klippt idag också, under tiden passade jag på att hjälpa oskar med bloggandet genom att bjuda honom på ett fantastiskt ämne; mig. läs om mig: http://www.dont-get-lost-in-heaven.blogspot.com, fy vad ruttet länkknappen går inte att använda. jag hatar reklamen när dom pratar sen kommer det upp varor på sidan om, typ hemköpreklam.
en dag köpte jag ett par svängiga bernhard willhelm skor
---
MICHEL BERANDI
läcker ryggsäck från fw08, förutom det fula handtaget
---
GÅRDAGENS LÅT
eftersom det inte blev någon låt idag så blir det två idag från andreas, gårdagens låt blev music by em - annabelle.
den tyckte jag ändå om, den var som behaglig. soft. tack
kolla en dag åt jag fulmiddag, inte så fashion. men jag har inte ätit sån sen jag var en köttätare och ja den var ju inte mer än vad jag förväntade mig, undrar varför jag gör såhär mot migsjälv? kolls vad ful jag var på bileden. tur att man har börjat strunta i att skämmas
vegetarisk fullkornsbillys + hideous boyface:
---
FLASHING LIGHTS
drömmen att kunna freestyla loss på en sån dänt
---
PLEASE
idag hade jag ett gäng paparazzi fotografer efter mig, men dom var inte precis high end, jag blev fan tvungen att slänga mig framför kameran för att dom jävlarna skulle träffa mig med sina shots of beauty:
haha jag hitta en kniv under mitt lakan, soft.
jag och johanna fick en lägenhet i enskede idag, hur läcker som helst, jag är kär i den. hoppas bara inte den vimsiga tanten slarvar bort allt i samband med någon kirunahistoria. vi firade med att åka till lidl och rusta där jag went crazy med britneys gimme more i huvudet, älskar shires reklam bara för det är den låten. kanske nästa gång jag leker kvittokartongen är det just dom kvittona som dras ur kartongen!!!! tagga!!! *ser fram emot*
idag provade jag något som min mamma tipsat mig om, det var lätt att laga men svårt att äta
stekte upp torskfilé, zucchini, champinjoner, gul lök, röd lök och la det i en såndär tacosgrej som jag lagt lite passerade tomater i. inte speciellt gott blev det heller. tur jag åt min favoriträtt till lunch, dock var det hemköpscrunchy och inte icas
*guud vad jag är beautiful!!!!!* utan nåra finnar måste jag ju vara oemotståndlig för samtliga
---
THERAPY Á LA ICA
*drar kvitto ur kvittokartongen (som i bingoloto ni vet när loket drog en lott som vann cazh)*
en gång köpte jag:
6-pack frigående ägg 13 kr
champinjoner skivade 11 k
fullkornsris 20 kr
quornfärs 26 kr
ica olivolja extra 50 kr
plastkasse 1.50
tomater krossade 3.50
äntligen vitt mjukbröd 26.50
gud vad jag aldrig ska köpa det där brödet igen, jag köpte det bara för på reklamen verkar det så himla bra
det här kommer bli min nya grej här på bloggen, den tror jag starkt på, kvittokartongen!
---
PINSAMHETER
det var sånt här jag talade om tidigare när jag skämdes över vissa svenska märken, whyszeck är ett annat otroligt pinsamt. ja ootroligt kreativ, "stilren men ändå spännande design, avslappnat men passar ändå klubben"
"idiotiskt men ändå framgångsrikt!" hahah sen kommer jag ihåg när mouli gjorde succé, det var kul. haha vad höll ni på med????
---
COCO ROCHA FOR BALENCIAGA SS07
---
DIOR SS04 AD CAMPAIGN
rolig
---
JIL SANDER SS04 AD CAMPAIGN
---
GARY
jag har dealat till mig en deal med andreas (inte praktikanten), han ska skicka mig en låt om dagen, ingen press, inget kool bara nånting. vi började lite lätt idag med det snurrar i min skalle av familjen, undra vad morgondagen bringar *excited*
nu ska jag spendera livlösa timmar i sängen tills jag ska kolla på lägenhet imorgon!!!!!!! *excited igen*
---
IVAR HAR KÖPT EN SKINNPAJ I PARIS
hur övertalar man någon att göra en dokumentärfilm om en? jag försöker övertala andreas (praktikanten), jag tycker att han gott och väl kan göra en om mig som projektarbete nästa år. jag är helcool, och det blir kul. vad mer kan man begära? lite intervjuer, lite musik, lite freestyle, lite matlagning, lite filosofi, lite känslor och lite action, skulle ju bli alldeles otroligt utmärkt mycket väl godkänt!
jag älskar att ta kort på mig själv, det är den bästa funktionen med mac, har tagit hur många kort som helst.
hatar odeur, fy vilket sunkigt märke. pinsamt att det kan gå bra för ett sånt märke, fy skäms modesverige, fy skäms konsumenter, hur billig och okreativ design som helst ba ja vi drar fram en trekant här å lite knappar där, sen oversizar vi det hela så vi slipper hitta nån läcker passform och vi säljer mer för alla kan ha på sig det. hur kan såna sunkiga märken göra succé? typ resteröds är också ett märke som ba sådär blir typ hur känd som helst på ingenting, ok om dom designade för typ hm eller nåt.
hatar att jag ringer tres support för att installera internet guiden inte ens ser ut som i min dator och dom hänvisar mig till google för att min dator är för ny, google är ju internet!!!
älskar hood rat-at-ouille *insideskämt hehe kul hehe ivar kul va killen*
---
SASHA PIVOVAROVA FOR PRADA
---
NATASHA POLY FOR GUCCI
---
DELICIOUS MEAL
idag gjorde jag något utöver det vanliga
sojakorv med bröd å pommes, till det ett glas of delicious water.
jag borde starta ett matlagningsprogram, mitt matlagningsteam skulle bestå av: rachel ray, den elaka kocken, jamie oliver, den thug kocken som var med i elaka kockens program en gång, ivar lantz, min mamma och jag
---
MAISON MARTIN MARGIELA
---
VARFÖR HAR ALLA SÅ FULA SKOR?
jag tänkte göra en lista på saker jag skulle göra om jag blev rik, men jag blev så tveksam när jag tänkte att jag skulle köpa snygga skor till alla. skulle jag må bra av att alla hade snygga skor? jag menar då vet man ju inte vem man ska ge läckra blickar till i tunnelbanan. då får man ju inte den där otroligt softa känslan, den där självgoda som säger att man är bättre än alla andra, typ som när man är på nån rutten klubb och man vet att man är snyggast och coolast där, det är det bästa jag vet. länge leve ugly people!!!!!! they made me who i am. jag älskar migsjälv.
iallafall, saker jag skulle göra om jag blev rik:
- köpa en jättestor frys så jag skulle kunna handla hur mycket jag ville
- köpa speglar och sätta upp övervakingsysstem i mitt hem så jag kan se mig själv när jag vill
- starta asmycket företag, typ en restaurang med ivar
- flytta
- överaska
- köpa en tron
- bygga en studio åt ivar
- tacka mina föräldrar med oändliga gåvor
- om jag någonsin blir far så ska jag anlita en man som ska fungera som barnvagn, han ska bära barnet, och den mannen ska ha koppel runt halsen som en annan anlitad trusthworthy man drar efter mig var jag vill.
- köpa ett joakim von anka valv fast med crunchy där i
- köpa/bygga en ö
nu vill jag inte säga nåt mer för jag blev trött på det här
---
HOME OF THE VAIN
---
INTERNET
hej kompisar nu sitter jag och webbar gärnet med min nya datormaskin som kan ta kort
jag med mittbena och curry flavoured ris á la ivar
jag dansar disco på ett café
förresten idag blev jag promoted till nyhetsgrabb på kot!! *fashion*
---
OSOFT
hallå är det lätt att få tag på boende i kopenhamn? är de dyrt?
jag är taggad
tja
jag har skaffat facebook nu hehehe inne :P :P

---